Car Removal Melbourne
Selling a car is not a fun process, especially when it is not in good shape. If you own a car that is devastated due to being in a collision or typical aging process. Then, it will drive you crazy every time you see it crumbling away in your driveway or garage. However, if you live anywhere in Melbourne or the rest of VIC, this is no more a stressful issue. As you can easily discard it with the professional help of "Cashforcarsvic" team – Top Car Removal Melbourne team.
Offering Top Cash for Car Removals
Do you want to take advantage of our instant cash for cars deals? We are the trustworthy Car removal Melbourne providers who have more than 25 years of expertise in this field. So, we are capable of removing any type of abundant, old, scrap, badly damaged in an accident, written off or no more functional vehicle.
Although such vehicles appear to be totally worthless we still pay fair stack of cash for them. Because our qualified team can break down junk automobiles and recycle its components. We use great skills and high-quality equipment to dismantle and recycle vehicles in a safe way. Contact us today for a free quote.
Why Hire Us to Remove your Car?
Since we are a well-certified, insured and licensed auto wrecking company. You will get plenty of benefits by removing your scrap, old or unwanted vehicle with us. However, we don't focus on providing an increasing number of services.
Instead, we make sure to give high quality and convenient services. We won't care if you are selling a brand-new, junk, old or irreparably broken automobile. This is a great reason why people like to hire a free removal facility.
Similarly, we are specialized to buy cars, vans, Utes, trucks, SUVs, 4WDs and other vehicles that exist in the auto market. We use our massive fleet of tow trucks and quality removal equipment to ensure risk-free collection facility. Along with this, we will fill your wallet with the maximum amount of cash.
Paying Top Cash in Melbourne
Although the number of auto removal businesses is growing at a great level. But still, it is difficult to find a legitimate and professional firm that actually take off vehicles for a fair price.
In fact, many companies only declare to offer a free towing service. But when it actually comes to removing a damaged or not-running vehicle, they ask clients to transport it. On the other hand, some companies deduct a removal fee from the final price paid to the customers. This reduces the overall amount of money and customers end up getting an unfair price.
To avoid all this fuss, you must choose to sell your old clunker to us. We will make things completely hassle-free by paying you the highest amount of cash. This is typically based on various attributes like the model, year, make and state of damage in the questionable vehicle. Also, we make instant payments at the same time when we collect automobiles. So, there is no need to fear about getting screwed.
Wrecking All Make & Models
Our best car removal melbourne and auto wrecking services apply to all makes and models. Whether it be a commercial truck, family car, van, Ute, SUV, compact sedan, 4WD, hatchback or any type of vehicle.
We will take it away from your place after putting the highest sum of money in your pocket. There is no restriction to the range of brands as well. We like to trade in all well-known brands like Subaru, Holden, Jeep, Kia, Ford, Mazda, BMW, Volvo, Hyundai, Volkswagen, Mitsubishi, Mercedes Benz, Nissan, Renault, Saab, Suzuki, Audi, Peugeot and much more.
In addition, we will purchase it irrespective of its condition (whether junk or not-functional). You don't need to get involved in marketing its sale and face related challenges.
As you quickly remove it with our expertise and smooth auto car removal melbourne service. This is accompanied by a free cash appraisal and inspection service at your place. The great news is that you won't be charged any extra cost or hidden fee for this ultimate service.
Old, Junk or Damaged – Condition doesn't matter
If you are afraid to call us because your vehicle has been damaged in a massive flood or written-off in a road accident. Don't worry. We don't consider the condition of a vehicle as a factor to disqualify the vehicle from getting into our collection. In simple words, we are able to buy all kinds of new-like or irreparably unwanted cars for cash.
We believe that a vehicle is not completely useless even when it dies. There will be still some perfectly working parts and valuable materials in it. So, we are happy to purchase any worse condition of the automobile like unregistered, totaled, permanently damaged by fire or flood or road accident. Nothing will make us say "NO" to your old or junk ride. In fact, we will carefully estimate the value of junk material and components in it pay the best price.
If you are still worried because your vehicle is so wrecked that it has no working parts, please relax. We will be still able to make money out of it by taking off and reselling it's scrap materials.
Simple and Fuss-free tow away service
The expert and friendly team at "Cashforcarsvic" take customers' satisfaction as their first priority. So, if you are worried about getting rid of your junk ride, don't take it on yourself. We understand that it won't be in a condition to drive as a car removal melbourne basic characteristic. That's why we will pick it for no extra money.
Our obliging specialists will quickly come to your place to collect your car removal melbourne and pay you good money before doing it. We are happy to help you in any region of VIC including Dandenong, car removal Melbourne, Clayton, Noble Park, Springvale, Melton, Laverton, Kensington, Jolimont, Frankston, Doncaster, Epping, Ringwood, Werribee and the eastern, western, southern and Northern suburbs of Victoria. Just make us a call at any time, 24 hours and seven days a week. We will be happy to help you straight away car removal melbourne
How to book a free car removal in Melbourne?
The process of availing our car removal Melbourne service is really simple and effortless. It just involves contacting us to receive a free price offer, which you can do through phone or our website. Simply find an inquiry form on our site to fill up or free call @ 0408795705. Whatever option you use, just remember to share correct details regarding your automobile. This makes it easier for us to evaluate it on this basis. Basically, we will need to know your car's make and model, year of manufacturing and current condition for car removal melbourne.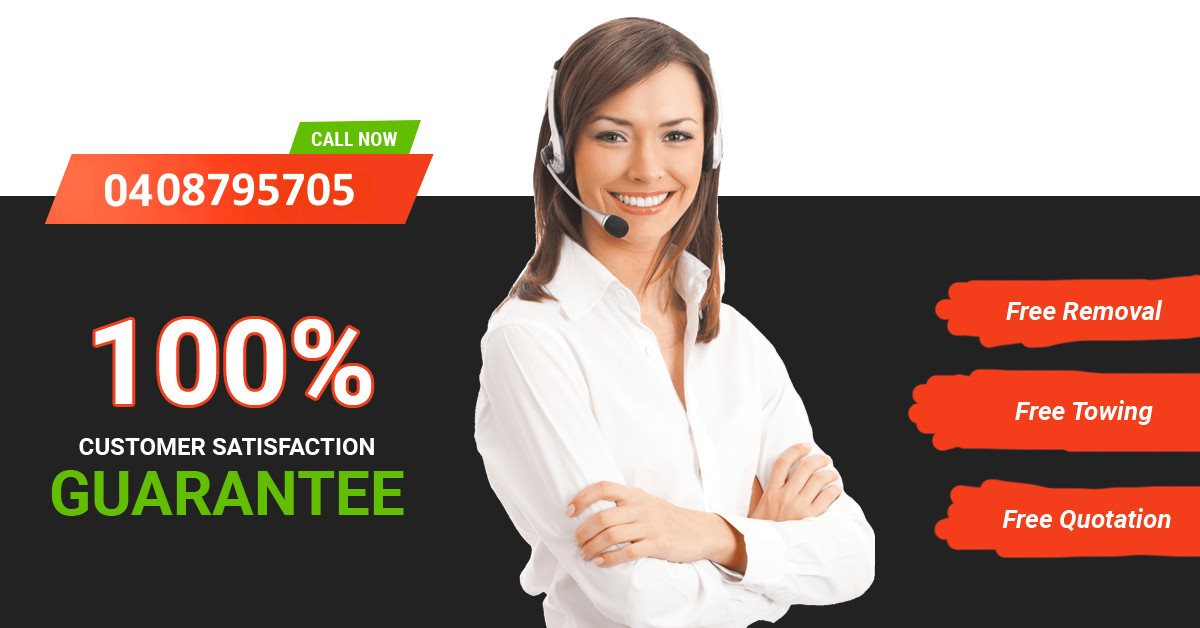 Instant Car Removal Melbourne Valuation